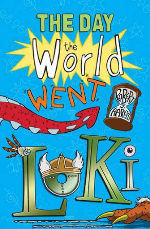 THE DAY THE WORLD WENT LOKI
Lewis and Greg have accidentally turned their mum into a troll, and the town of St Andrews into a fantasy world. Can they change it back before Loki, Norse god of mischief, takes over forever?
The Magic Of Special Days
The starting point for this story was that magical feeling you get on special days. We know what that's like on Christmas and birthdays, but there's something particularly magical about special days you don't see coming. For example, when school is closed because of snow and you have an unforeseen day off to do what you want.
So I supposed that there had at one time been eight days of the week but that one had been removed from the calendar and forgotten about. In the story brothers Greg and Lewis McBride find a rhyme that will conjure up this lost day for the first time in centuries.
What Day Is That?
So what would this day be? Well, most of the days of our week are named after Norse Gods, Tuesday/Tyr, Wednesday/Odin, Thursday/Thor, Friday/Frey. It seemed reasonable that the missing day would also belong to one of the gods, in this case Loki, the god of mischief and magic. In the old legends, Loki does many things to annoy the other gods, so it made sense that they would get rid of his day and exile him at the same time.
Then I had to work out why this day would be different from other days. Being Loki's day, I decided that it was a day when magic would simply run rampant. It turns everybody in town into trolls, pixies and ogres, and the buildings into castles and temples.
Norse Or Worse
One of my favourite books that I borrowed repeatedly from the library as a boy was called Tales of God and Heroes. I found the tales of the Norse gods thrilling and that feeling has stayed with me throughout my life. However, if this was to be a really madcap day, it couldn't just be about Norse mythology. So the magical rhyme also brings back into the world creatures and places from Scottish folklore, ancient Egypt and other sources.
Madcap Logic
It is only by working out the logic behind all the crazy happenings that the boys are able to find a way to reverse the spell and turn St Andrews back to normal. Unfortunately for them, Loki has shown up in town to celebrate his special day, and he isn't going to let it end. They will need the help of their awful Aunt Vivien and her terrifying cook book if they are to succeed.
The Day the World Went Loki is currently Kelpies' book of the month. Visit the Kelpies' Book of the Month page, for a chance to win your own copy of the book.
Here you will also find an exclusive interview with Bob and you can read the first chapter online. Once you're hooked Kelpies also provide full details of how to purchase the book direct.
Just some of the reviews ....
A boisterous, funny and magical tale of ancient myth hitting the streets of the modern world with a bang.
You might think brainy Lewis and easy-going Greg get what's coming to them, but you'll still be cheering them on as they navigate Valkyries, dragons and a host of other unexpected epic pitfalls - and all because they were trying to avoid a maths test! Robert Harris is a master of the hilarious.
Elizabeth Wein, author of Code Name Verity and Rose Under Fire
"A delicious fantasy romp.
Jane Yolen, author of Dragon's Blood and Wizard's Hall
"A hugely enjoyable romp...Lots of irresistible page turners and a hugely satisfying ending."
Annemarie Allan, author of Hox, Breaker and Ushig.
"The book is written with great wit and an abundance of one-liners but what I particularly like about it is that it is the younger brother, Lewis, who has the brains and common sense to work out what the problem is and how to solve it, not the older brother. These are reluctant heroes, hiding from the girl who fancies them, the nutty aunt, and homework. They are, despite Greg's laziness and tendency to assume the credit for anything and everything that goes well, likeable lads and this is a fun story that rattles along and works on every level.
Harris doesn't talk down to his readers. He assumes they can work out that Greg is lazy and Lewis is smart, that Lindsay has a crush on Greg. His dialogue is clever and entertaining, though not beyond the ages of his characters.
Suse Coon in Lothian Life magazine.