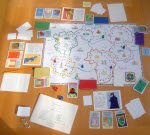 At last MYTHGARDIA, Bob's long awaited folow-up to Talisman, is available to buy. It's a colourful and exciting game for 2-6 players, as well as being an exclusive collector's item.
Originally scheduled to be published by Games Workshop some years back as the official follow up to Talisman, time slipped by and the rights to the game eventually reverted to the designer.
Now Bob has taken the exciting step of launching the game himself in a lavish full colour first edition limited to only 100 copies, each numbered and signed with a certificate of authenticity. The artwork is by Debby Harris, graphic design by Kirsty Nicol.
MYTHGARDIA is available exclusively from www.mythgardia.com and can be purchased securely through PayPal.
Play the game and make yourself a legend!
Talisman - The Magic Is Back!

The Talisman torch has now been passed to Fantasy Flight Games who published their splendid 4th edition in December 2008.
As Bob said recently
"...like Monopoly, Talisman has established itself as a classic game which will always have a market, and can be constantly reinvented"